Christina Bibinski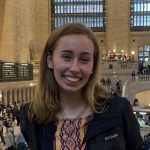 Christina Bibinski is an undergraduate physiology and neurobiology major and research assistant for Dr. Alexandra Paxton within the Ecological division of the SEE Lab at UConn. She's working towards a minor in psychological sciences, with some of her bigger interests being in the fields of developmental and cognitive psychology. She's working with Dr. Paxton and Megan Chiovaro on their eye-tracking and visualization experiment to help with data collection, and is excited to learn more about the various other projects and work being done within the SEE Lab.
Contact: christina.bibinski@uconn.edu
Brittany Burkman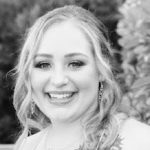 Brittany is a senior undergraduate student majoring in Psychological Sciences with a minor in sociology. Her research interests include understanding how physical environments impact social situations, examining police-citizen interactions, and understanding how race and mental illness affect individual's experiences within the criminal justice process. Brittany is planning on pursuing a career in the realm of forensic psychology with the goal of working with the inmate population.
Contact: brittany.burkman@uconn.edu
Cassidy Burt, MS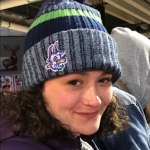 Cassidy is a third-year doctoral student working in the Social Division with Dr. Kerry Marsh at both Storrs and Hartford campuses. She received her B.A. in Psychology and Sociology from Rutgers University and recently completed her M.S. at UConn in Psychological Sciences. Her work deals with the visual perception of the environment and how this affects judgments and impressions of people acting and interacting within the environment.
Contact: cassidy.burt@uconn.edu
Megan Chiovaro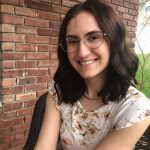 Megan Chiovaro is currently a Ph.D. student in the Center for the Ecological Study of Perception and Action (CESPA) at the University of Connecticut. She received her bachelor's degrees in Mathematics and Psychology from the State University of New York at Oneonta in 2018. Her work focuses on collective intelligence in human and non-human groups and how each may inform the other. Megan is particularly interested in the group processes of the social insect Apis mellifera, the Western honeybee. As a seasoned beekeeper, she uses live colonies to carry out behavioral research on phenomena such as 'swarming' and 'task-allocation'. Her work encompasses an ecological approach to ecology and collective intelligence, and presents a novel path for engineering efficacious human collectives void of a central controller.
Contact: megan.chiovaro@uconn.edu
Ashley Dhaim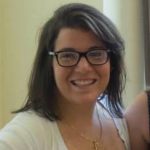 Ashley Dhaim is a fifth year PhD student in the Center for the Ecological Study of Perception and Action (CESPA) at UConn. She earned her B.A. in psychology from the College of the Holy Cross in 2015. Her current research is asking how social cognition and social coordination in children come to develop and interact with one another. Her other research interests include interpersonal synchrony, dynamical systems, social affordances, and learning.
Contact: ashley.dhaim@uconn.edu
Jeffrey Glassman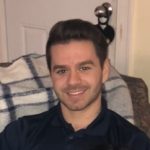 Jeffrey is an undergraduate psychology major, and research assistant for Professor Kerry Marsh. He plans to receive a doctoral degree in either I/O psych or Human Factors. Jeff has worked as a research assistant in social perception with Kerry Marsh and Cassidy Burt and in ecological-visual perception Alexandra Paxton and Megan Chiovaro. He's currently working with Andy Tucker on driving simulation work, and with Professor Vicky Magley's on correctional facilities studies.
Contact: jeffrey.glassman@uconn.edu
Bert Hodges, Ph.D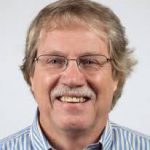 Bert Hodges is a Professor of Psychology at Gordon College and a Senior Research Scientist at UConn, affiliated with the Social Division and CESPA. His research focuses on social psychology, language, and perception and action. In particular, his research focuses on value-realizing processes – how values constrain and guide social perception and action. His long-range project is to develop an ecological account of values, with individual projects providing pieces toward that goal. In the area of language, he explores ecological, dialogical, and distributed ways of understanding why and how we talk with each other. In perception and action, he focuses on affordances and the way in which physical, social, and moral dimensions of action and perception are integrated. Some of his work has focused on how we engage in and recognize careful actions, whereas recent studies have focused on how the perception of time and weight affect each other.
Contact: bert.hodges@uconn.edu
Shu Jiang, MS
Shu Jiang is a third-year graduate student working with Dr. Nairan Ramirez-Esparza. She earned her B.S. in sports psychology in China and completed her master's in counseling psychology in the United States. She is interested in if and how social-ecological perspectives address the observed intrapersonal characteristics and interpersonal interactions among bilingual individuals. When not in the lab, Shu spends a lot of time in theaters and museums.
Contact: shu.2.jiang@uconn.edu.
Dr. Ramirez-Esparza's Language and Behavior Cultural Lab
Kerry L. Marsh, Ph.D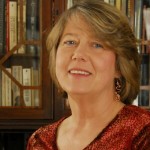 Kerry Marsh is a Professor of Psychological Sciences who supervises graduate students in the Social division, and occasionally in PAC. Although trained to study motivated cognition and attitude functions from a traditional social cognitive perspective, she has increasingly moved toward studying attitude-behavior and judgmental processes using more richly embedded and dynamic multimodal processes, using immersive virtual reality, for instance. Since 2006 she has advocated an approach to social psychology that is more radically embodied and embedded by taking a Gibsonian ecological approach to social perception and to joint action. To that end, she has developed novel ways of examining the emergence of interpersonal synergies – from examining how individuals in rocking chairs are pulled to synchronize their chair movement as a function of seeing or hearing others' rocking (and how music affects such sync), to studying the emergence of cooperative action using a plank moving task. Bringing a perception-action perspective to environmental psychology, she examines a variety of human-environment-technology issues such as social influence processes during emergency evacuation of virtual buildings, and how drivers within a semiautonomous car (AV) and those outside of the vehicle (pedestrians and nonAV drivers) coordinate action with AVs.
Contact: Kerry.L.Marsh@uconn.edu
Alexandra Paxton, Ph.D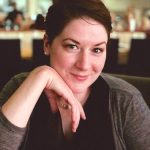 Alexandra Paxton is an Assistant Professor of Psychological Sciences in the Perception, Action, Cognition Division. (She is also affiliated with the Center for the Ecological Study of Perception and Action; the Institute for Collaboration on Health, Intervention, and Policy; and the Connecticut Institute for the Brain and Cognitive Sciences.) She takes a data-rich approach to understanding how people collaborate, bond, and fight. To do that, she weaves together a variety of data sources from the lab and the real world for a converging tapestry of the many ways in which language, movement, decisions, and emotions change during social contact. Understanding how context—including conversational goals, social connections, and physical spaces—shapes emerging behaviors is a primary goal of her research, embedded within rich traditions of dynamical and ecological perspectives on human behavior and cognition broadly.
She is also interested in developing methods to quantify social interaction, promoting open science research and education, and creating opportunities for cognitive scientists and psychologists who are interested in big data, naturally occurring data, and data science, with a special focus on data ethics.
Contact: alexandra.paxton@uconn.edu;
Website: alexandrapaxton.com
Andy Tucker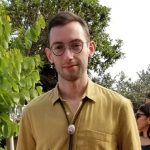 Andy is a sixth-year graduate student in CESPA whose dissertation is supervised by Dr. Kerry Marsh. His research interests include interpersonal coordination, way-finding and navigation, and dynamical and complex systems. His current research includes his dissertation examining the impact of stereotype threat on interpersonal coordination, and projects on navigation in fire emergencies, distracted driving, and interactions in and with autonomous vehicles.
Contact: andrew.tucker@uconn.edu